Why Village Digital?
.................................................................
Here are the Top Reasons why you should choose Village Digital for all your printing needs:
1. We guarantee 100% quality and satisfaction. Give us a try and we'll prove it!
2. Our prices are lower because we don't have to pay a "middle man" commissions or fees.
3. We can work with your budget AND meet your tight deadlines.
4. We are open 7 days for your convenience.
5. We offer local pick-up and delivery services. We also ship nationally via UPS.
6. We take both large and small jobs, and appreciate the opportunity to serve you in any capacity!
7. We provide multiple in-house services including pre-press, printing, and bindery, so we're involved in your project from inception to completion.
8. We're local, so feel free to come in for a quote, press check, or just to say "hi."
9. We are a family-owned and operated printer (not a corporate conglomerate). That means you deal directly with key players who care about your experience and satisfaction.
10. We've been in business since 1982 and love the New York community that we serve.
Some of Our Clients
.................................................................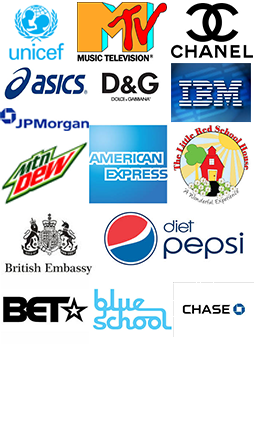 Some of Our Customer Testimonials
.................................................................
Dom
I believe in Your case the best it will be if You go to my friend HORTENCIO GOMES down in the West Village and he can do an excellent and a cost effective job for You. He has good prices, does good and fast job. You can call Hortencio at the number on his website: http://www.villagedigital.net
Cheers
LEONARDO
I am a repeat customer of VillageDigital. VillageDigital is a great place with a wonderful atmosphere that will help on many steps. Hortencio Gomes is very professional in graphic designing and is very helpful in many areas of CD duplication. He also has very good taste and gives very good tips for a perfect CD look. On top of that, prices are very fair and the job is done extremely quickly. That is why I love coming back.
With respect,
Larisa Gertman
Hi Regina,
W@@W!!!!! That bit of plastic surgery was definitely worth the price!!! My friend will be thrilled. So will her mother, who will have a nice picture of us together. I'll be by tomorrow with the difference! THANK YOU to you and the MASTER COSMETIC SURGEON!!!
See you soon,
Jim
You're awesome, Hortencio, thanks! Do you mind if I give the video editor your name and e-mail address in case he has questions?
jENNIFER wATROUS -
HI!!
Remember doing 2 dvd tapes for grants for me in October??? 2 3- minute clips of choreography for Philadelphia grants...... I said if I got them I'd treat you to dinner..? well I got them BOTH. I am in europe now for a few more weeks, but then soon I will make good on my promise and in the meantime TX TX TX for your help and patience...!!!
Susan Rethorst
Hortencio – Joe just brought me the CD's and they look fabulous.. I haven't listened yet but THANK YOU and THANK YOU VERY MUCH!!! It's a pleasure working with you, even to hear your voice… so I hope in the NEW YEAR we will find a moment to have a cup of expresso or a soup perhaps/?? Be well my friend, and make time for feeling good! Thank you again for a wonderful job – all the best –
JUDI SILVANO
Hey Guys
I am Thatch Williams manager Stephen. I just want to thank all of you at village digital for getting our cds done as fast as you did. They were perfect and they also sound great. We look forward to doing more business with you in the future. Once again, thanks guys.
Stephen Romano
Thanks very much Hortencio – TWO LIGHTS CDs look and sound great we all appreciate your patience and speedy turnaround!!!!!
Dawn x x
Hi Hortencio,
We are very pleased by the CDs (haven't tried the DVD yet). Jenny loves the colors! Just right! I dropped off the new masters and told Danny that we'd like to pick up the big package of 300 CD sets on Monday or Tuesday next week. We'll give you a more exact time in a few days.
Best,
HAROLD HILLE
Hi There,
I spoke with someone last week about getting a spindle of blank CDs and blank DVDs printed for our company. We've worked with you guys before and have always been thrilled with the result!
Sachar Mathias
Frisbie